I was on a series reading binge in February. I read a lot of light reads too (the Cora Carmack's, especially). Are we friends on
Goodreads
? Because if not, stop by and add me!
Excuse the smutty covers...I swear the books aren't that smutty! :)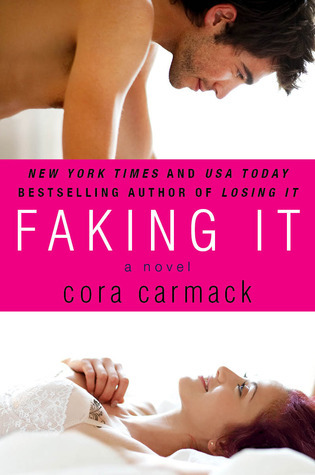 Keeping Her by Cora Carmack
- 3 stars (finished 2/2)
This was a novella that followed the first book in the Losing It series. Not overall enthusiastic about this one. It was okay. Meeting Garrick's parents was a little unnerving. I think I like his mom, but we didn't get to spend enough time with her to really know for sure.
Beastly by Alex Flinn - 4 stars (finished 2/4)
A little different from the movie, but I think I like that. It's been ages since I've seen the movie and the book definitely has a better adaptation of Beauty & the Beast. It's a little less realistic, but a better adaptation.
The One by Kiera Cass - 4 stars (finished 2/5)
This is the third book in The Selection series. It was originally supposed to be the final book and then the author announced two more books - The Heir will come out later this year and the fifth untitled book next year, I believe. After reading this one, I'm kind of glad it isn't the end. The back and forth was kind of tiring, but the climatic scene came out of NO WHERE. I was totally taken aback by it. I was in absolute shock. I am glad things ended where they did and am looking forward to the continuing story in the next book!
Faking It by Cora Carmack
- 5 stars (finished 2/11)
This is the second book in the Losing It series. I read this way faster than anticipated. Loved this one just as much as the first. It was interesting to see Cade's perspective and I really really liked Max a ton. Great character development, as always.
Finding It by Cora Carmack
- 4 stars (finished 2/13)
This is the third book in the Losing It series. Honestly, I was not a huge fan of Kelsey. I didn't really like her until after her phone call with Bliss in the very end. I also wasn't happy that we didn't get a dual POV story like with Faking It (the last novel). Although I know the novella is told from Hunt's POV, so I am very excited about that. The story itself was pretty good, but I just wasn't a fan of how careless Kelsey was.
Seeking Her by Cora Carmack
- 3 stars (finished 2/16)
This is the novella that follows book three in the Losing It series. When I read Finding It, I was sorely disappointed to not have Hunt's POV since I had just read Faking It and it was dual POV. I was excited when I found out the novella was Hunt's POV, but after reading it, I feel very underwhelmed. It wasn't as much development from his character - there wasn't as much background as I would have hoped to have gotten :(
Flawless by Sara Shepard
- 3.5 stars (finished 2/22)
This is the second book in the Pretty Little Liars series. These are definitely light reads. There isn't a ton of character development and they seem so short, but they are still good reads (I totally went all Alton Brown there in my head). The tv show is a guilty pleasure, so it's not surprising that these books have taken the same role. In the books, I find it hard to like any one character though. In the show, Aria is by far my favorite - although it was Spencer for a really long time. The book characters have so much more going on that it's hard to like them at times.
What books did you finish in February?
Have you read any of these - if so, what did you think?